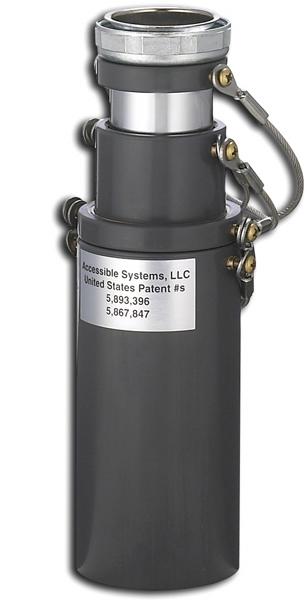 K100-75 Telescoping Drain
(No Longer Available)
The K100-75 has been superseded by the T1512 in new systems. This part is now obsolete. Contact us for repair options if you have a legacy K100-75 drain.
Contact Us
The K100-75 adjustable drain also known as a telescoping tailpiece or telescoping standpipe enables manufacturers and professionals to install code compliant adjustable height sinks and lavatories. The interior wall of the K100-75 is smooth and installs vertically, so there is no possibility to create a secondary trap or otherwise collect waste water within the assembly. This telescoping drain is ideal for hospital decontamination sinks, adjustable height sinks and vanities, adjustable height shampoo sinks, and adjustable height hand wash stations.
When carefully installed so the drain is vertically plumb and moves in the same plane as the fixture without binding, this system will provide many years of service. This product has proven its durability after 15 years of successful installation and used in adjustable height commercial shampoo fixtures.
K100 Installation Accessories
K100-72-95 drain bracket kit, stainless steel, attaches to wall or vertical surface, adjustable distance between drain and vertical attachment. The bracket mounts with four 5/16" fasteners.
K100-75 Features
Designed for 12" Vertical Adjustment of sinks and basins, full extension range of 12.5"
1-1/2" diameter. Top end has a 1-1/2" integral slip nut for connection to a strainer or stopper valve, bottom end has 1-1/2" PVC coupling.
Smooth interior surface, telescoping action
Patented telescopic plumbing meets ASME/UPC standards. Listed with IAPMO, file #5496
K100-75 Description
Meet requirements of ASME A112.19.12-2014
8.0" height fully contracted
20.5" height fully extended
Brass and PVC construction
Four telescoping sections constrained with stainless steel cables meeting MIL-Spec 20668 and Fed Spec RR-W-410