About Accessible Systems
We design, manufacture, and market adjustable height sink products that utilize a unique telescopic drain and lift system.
Where It Started
In 1991 while working as a stylist at a senior living community, Barb Klawitter witnessed firsthand the challenges related to providing quality salon care for seniors. In particular, she was concerned about safely transferring residents from wheelchairs to salon chairs, and then maximizing their comfort once in the salon chair. Frustrated that her clients were not receiving the experience they were entitled to, she began working on a better way to provide this very important service.
After building a prototype height adjustable salon sink in her home, she tested it in the senior living community where she worked and, in 1993, introduced the first K100 Adjust-A-Sink to the world. In the process, two patents were awarded on the design, and a new concept in innovative salon care for seniors was born. Barb led the business for 14 years, and built a loyal following among senior care facilities. Today, there are thousands of K100 models installed throughout the U.S. and Canada, with many more being specified for new construction and remodeling projects.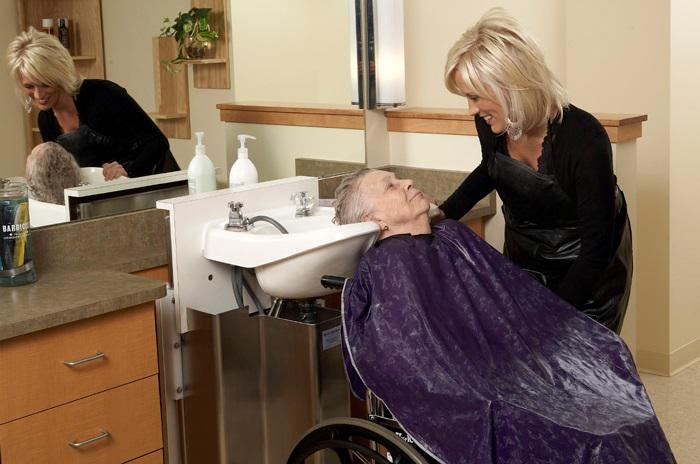 Dedicated Family Owned Business
It has now been 25 years since the first Adjust-A-Sink was put into service, and we are proud to carry on the mission that started the company. We are continuing to innovate new products that enhance the lives of those with physical limitations and provide outstanding return on investment for the facilities providing salon services. In recent years we have introduced the E140, an electric powered sink system, and new salon bowl uniquely designed to provide greater wheelchair access than any bowl on the market. Additionally, we offer a line of telescoping drains manufactured with all metal components that are perfect for many health care and medical applications.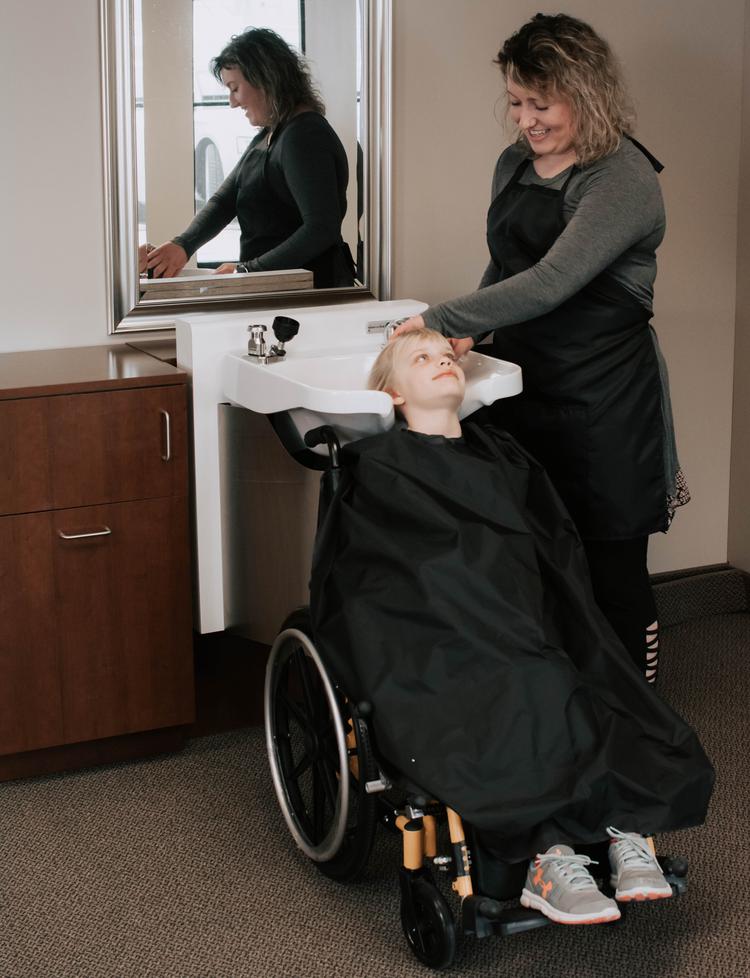 Why Choose Adjust-A-Sink
Safety
The Adjust-a-Sink, adjustable height sink, reduces the risk of accidents in senior living salons resulting from transfers, for both the resident and the staff. Our products are ideal for handicap hair washing, allowing you to rest easy knowing that your clients are comfortable and safe.
Comfort
The Adjust-a-Sink's adjustability helps ensure a comfortable and dignified shampoo service for residents in wheelchairs or with physical limitations. This permanently mounted and sturdy adjustable shampoo sink makes it easy to wash hair in a wheelchair and minimizes the wet floor and client that a portable shampoo bowl or shampoo tray may present.
Cost Savings
The Adjust-a-Sink reduces costs by reducing the need for additional staff to assist with salon transfers. There can also be a significant amount of time wasted in the salon waiting for transfer assistance as some facilities report 6 hours per week spent waiting. The adjustable shampoo sink is easy to use as a single stylist can shampoo and cut without assistance.
Ease of Use
The Adjust-a-Sink offers 12 inches of true vertical travel, and the intuitive and easy-to-use foot pump mechanism allows the bowl to be raised or lowered to accommodate the stature and condition of the salon patron. It works with either the patron's wheelchair or a traditional salon chair.
Luxe Design
Fits in any interior design plan. Over 50 bowl colors to choose from. There are unlimited choices for the laminate on the backsplash and rear panel. Standard quick ship colors include white, almond, and black.
ASME/UPC Standards
Lift systems and telescopic drains are UPC listed to ASME A112.19.12-2014 standards.