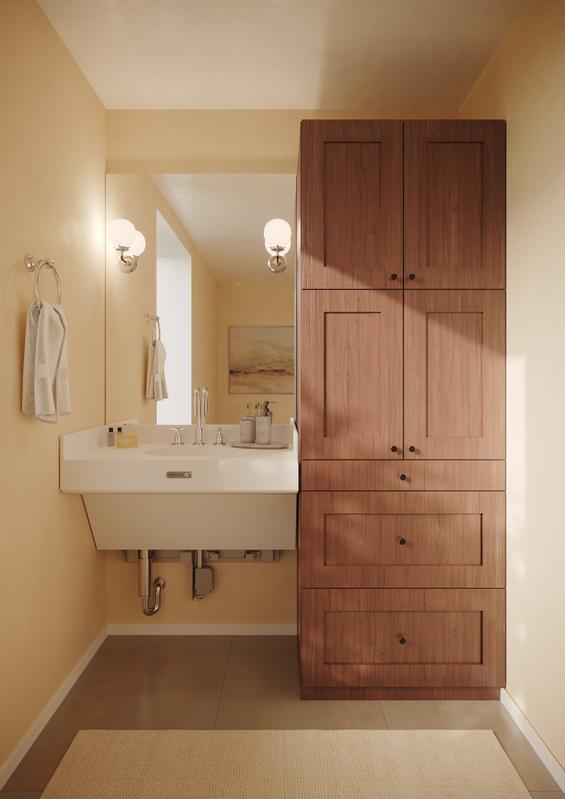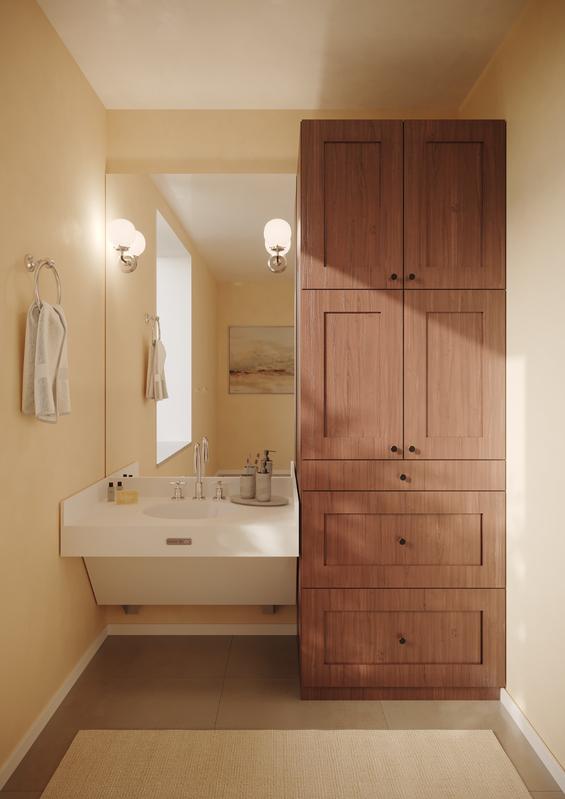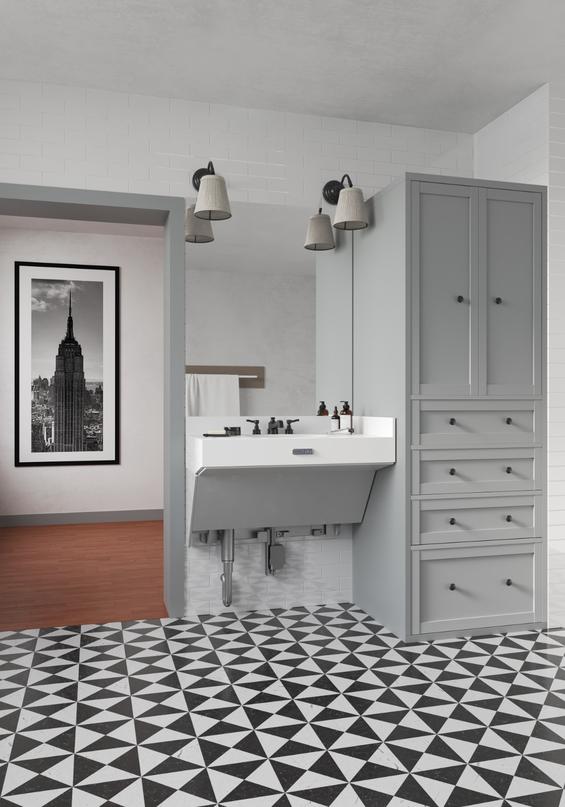 Adjustable Height Bathroom Sink
Introducing the latest adjustable height Residential Style bathroom sink.  The Model LV-10 adjustable frame and solid surface top provide 10 inches of vertical adjustment to accommodate a full range of accessibility for all users. This system is the most flexible handicap accessible sink we offer.
Request a Quote
Designers asked us for an adjustable bathroom sink that could be customized and fit with any interior style, so here it is!  We have an adjustable sink frame that can accommodate tops fabricated from 30 to 42 inches wide from any available solid surface countertop materials.
In a typical installation, the top adjusts from 26 inches to 36 inches above the floor and provides the ADA required clearances when adjusted to the 34" top height for adults as well as ADA clearances when adjusted to a 31" top height for children. 
Many users of mobility aids are of smaller stature and the bathroom lavatories are too high to use comfortably when mounted to meet ADA requirements.  They have to struggle to reach the controls and bowl, or they try to stand up out of their wheelchairs, which can create an unsafe situation.  The electric powered LV-10 allows the user to easily adjust the bathroom sink to a comfortable height with just the push of a button.
A full 80 percent of falls happen in the bathroom, according to the National Institute on Aging.  The LV-10 or LV-10S can be a solution for fall prevention.  
Features
10" vertical adjustment range fits a broad range of statures, large adults to children can be accommodated in one installation.
Tops can be fabricated for spaces 30" to 42" wide from any available solid surface material.
Any faucet can be installed on the custom tops.
Meets ADA clearances when adjusted to 34" or 31" top heights.
Listed Plumbing device in IAPMO file #5496
Listed Electrical device in IAPMO-EGS file #E10062
IP rated electrical components and actuators for wet locations.
Easy to use buttons adjust the height of the bowl.
Patented telescopic plumbing meets ASME/UPC standards. Listed with IAPMO, file #5496.
Safety stop option on LV-10S prevents downward motion into objects beneath.
User lock-out capability can be accomplished with key switched AC outlet providing power to the unit.
250 pound weight rating.
Meets ASME A112.19.12-2014, ASME A112.19.2-2018/CSA B45.1-18, and UL951 required by IPC and UPC plumbing codes.
Perfect for Senior Living, Special Needs and Home Healthcare residences that need wheelchair accessible sinks.
A great solution for a Forever Bathroom and Aging in Place.
Options
LV-10
Standard lift frame with mechanical safety spline in actuators
LV-10S
Mechanical safety plus stop panel beneath the sink.
solid surface tops
Tops are fabricated to job specifications in any available material and color.  Basins used must be one of the approved styles noted in Design Guide.
Installation Accessories
ASSE 1070 Mixing Valve Kit – Our anti-scald kit mounts to the back panel and comes with mounting hardware and supply connections
Pricing
$5,995.00 MSRP for Model LV-10 with 30" wide white top and knee panels.
$6,135.00 MSRP for Model LV-10S with 30" wide white top and knee panels
Wheelchair Accessibility

green