The E140 offers an electric powered lift, comes standard with our new Comfort Fit shampoo bowl, and provides an extended 14" of vertical adjustment.
Learn More
Our original hydraulic Adjust-a-Sink model, available with our new Comfort Fit shampoo bowl, and providing 12" of vertical adjustment.
Learn More
For many residents in senior living, the visit to the salon is the highlight of their week. It is important to make their visits safe and comfortable. The Adjust-a-Sink® makes that possible. Designed with health care residents in mind, this height adjustable salon sink makes a shampoo in a wheelchair a dignified experience for the client and a hassle free service for the stylist and community.
View Adjust-A-Sink Systems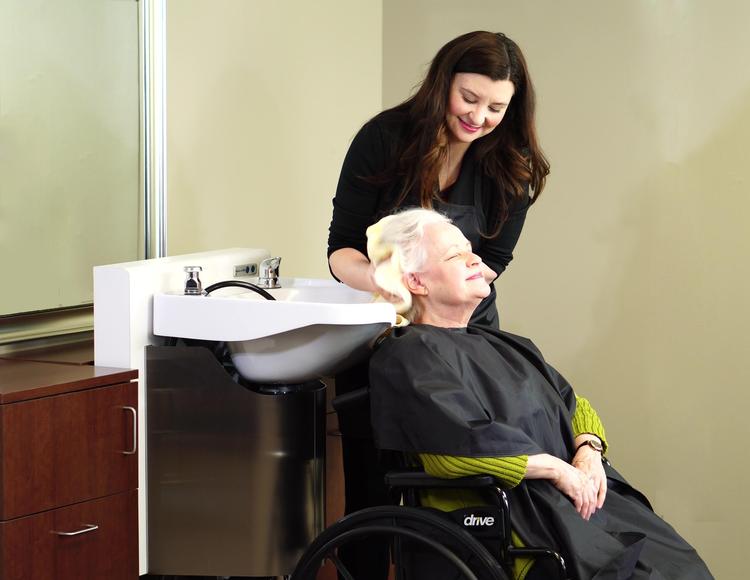 Cost Savings
An Adjust-a-Sink can save thousands¹ in labor costs by reducing transfer assistance in the salon from community staff.  For about the cost of a hiring bonus, a community can permanently reduce staff workload.
Annual Labor Savings with Adjust-a-Sink Installed
$1,510
5
$3,021
10
$4,531
15
$6,041
20
$7,552
25
Salon Transfers per week
Safety
Prevent falls and manage risk, reduce wheelchair transfers in the salon.
The average treatment cost of a senior resident fall is
$30,000²
The average cost of a health care workers' compensation claim is
$15,860³
Comfort
Our systems lift the shampoo bowl up to the client's neck, rather than bending the neck to the bowl. On site salons are a "must have" for 4 out of 10 prospective residents⁴. Impress them on the tour with the most comfortable equipment available.
Stay comfortably in your wheelchair during the entire salon visit
Less Stress
For Memory
Care Residents
Less Pain
For Those With
Physical Afflictions
Calculations based on 10 minutes of time per transfer, annual staff salary of $30,850 plus tax burden and benefits, two staff assisting each transfer.
2017 A Place for Mom Senior Living Preferences Survey 
The Adjust-a-Sink has made our residents more comfortable and easier to work with, as well as creating a safer atmosphere for the beauticians since water doesn't get on the floor as much. We love the sink!
Jo Hilliard, Administrator, The Christian Village, Lincoln, IL
Our beauty shop operators find the Adjust-a-Sink to be a real asset in assisting the hair care needs of our residents. The adjustability allows a much easier and more comfortable method of shampooing for the residents and operators.
Roger Goepfert, Administrator New Glarus Home, Inc
It's a game changer. Very comfortable and accommodating!
Kelly Bilau, Administrator, Brendan House- Kalispell, MT
I love it and recommend it!
Things are going great with the sink! More and more people are getting the word that we have one. Thank you for helping us get one for our salon!
Cathy Forton, Golden Girls Hair Styling, Port Huron, MI