The E140 offers an electric powered lift, comes standard with our new Comfort Fit shampoo bowl, and provides an extended 14" of vertical adjustment.
Learn More
Our original hydraulic Adjust-a-Sink model, available with our new Comfort Fit shampoo bowl, and providing 12" of vertical adjustment.
Learn More
For many residents in senior living, the visit to the salon is the highlight of their week. It is important to make their visits safe and comfortable. The Adjust-a-Sink® makes that possible. Designed with health care residents in mind, this height adjustable sink can be used for rehab patients in addition to senior living residents throughout the continuum of care.
View Adjust-A-Sink Systems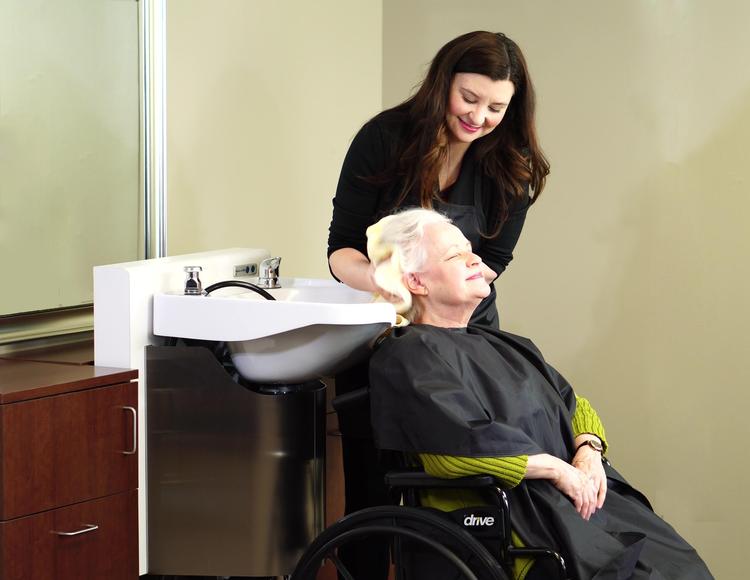 Why Choose Adjust-A-Sink
Safety
The Adjust-a-Sink adjustable height sink reduces the risk of resident injuries resulting from falls during manual transfers to and from salon chairs. It also reduces the chances of back injuries among the staff facilitating those residents. Ideal for all facets of health care, the Adjust-A-Sink helps facilities mitigate liability risk, and can be part of an overall back injury prevention program.
Comfort
The Adjust-a-Sink allows residents to stay comfortably in their wheelchair during the entire salon visit, which means less stress for memory care residents and less pain for those with physical afflictions. The sink then allows residents to sit in the position most comfortable for them while the sink adjusts to their exact position. Stylists may also adjust the sink to a height best suited for them, lessening back strain. Designed to allow superior access for residents in wheelchairs compared to portable or pivoting bowls, this system minimizes chances of water spilling onto residents or the floor, enhancing comfort and safety.
The Adjust-a-Sink reduces costs by nearly eliminating manual transfers in the salon, and the need for a second or third person to assist with these transfers - likely nursing assistants from off the floor. Labor savings can pay for the system in months.  The time stylists spend waiting for assistance, which Adjust-A-Sink customers report can be as much as six hours per week - or over 300 hours per year, could be spent on additional appointments. Adjust-A-Sink customers routinely report being able to add 3-5 more appointments per day simply due to the efficiency of the sink.
See 3 Ways to Save
Things are going great with the sink! More and more people are getting the word that we have one. Thank you for helping us get one for our salon!
Cathy Forton, Golden Girls Hair Styling, Port Huron, MI
The Adjust-a-Sink has made our residents more comfortable and easier to work with, as well as creating a safer atmosphere for the beauticians since water doesn't get on the floor as much. We love the sink!
Jo Hilliard, Administrator, The Christian Village, Lincoln, IL
It's a game changer. Very comfortable and accommodating!
Kelly Bilau, Administrator, Brendan House- Kalispell, MT
I love it and recommend it!
Our beauty shop operators find the Adjust-a-Sink to be a real asset in assisting the hair care needs of our residents. The adjustability allows a much easier and more comfortable method of shampooing for the residents and operators.
Roger Goepfert, Administrator New Glarus Home, Inc